The Real Truth Behind Flood Damage Remediation Options in Randolph
4/19/2020 (Permalink)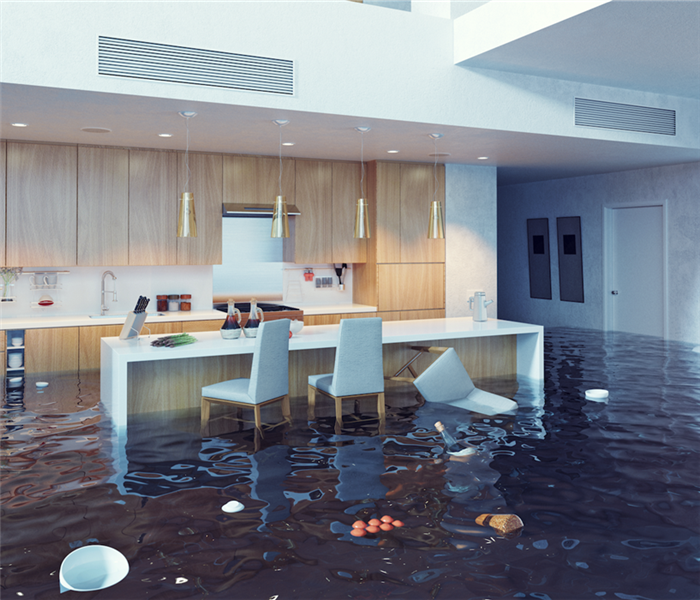 When flooding affects the home, time is of the essence. Contact SERVPRO right after an event for water removal and to help prevent a mold infestation.
Flood Damage in Randolph Needs More Than Water Removal
One of the main caveats of flood damage is that it needs attention almost as soon as it occurs for the best outcome. There are often a host of issues that come with the water loss.
When a home in Randolph has flood damage, bringing in professional help to clean it up is paramount to lessening the loss. Because the technicians at SERVPRO are available 24/7, there is never a delay in starting the restoration services.
Prepping for Water Loss Before it Happens
It is a good idea for local property owners to set up a plan for what to do if a water loss occurs. Make a list of valuable items, locations of essential papers, and priceless treasures such as photo albums or artworks get removed before elevated humidity causes damage. If it is not possible to access the items before the techs arrive, the crew chief can get anything needed out of the house.
Common Issues After a Flood
One of the reasons that flood damage has the potential for so much loss is due to the various things that arrive with the water. Debris, chemicals, and sewage are all typical things that the techs have to deal with during cleanup.
Mold is another frequent problem. The naturally occurring airborne spores can germinate within 24 hours, and once that happens, they can spread rapidly throughout the home, particularly on sheetrock and wood framework.
Odor Control
The odor in the home after a water loss can be significant. The technicians have varying types of applications to neutralize any level of musty scents left behind after drying and cleaning.
Rebuilding After Flood Loss
A home can change in looks significantly after a water loss. When the seriousness gets elevated to flood-type damage, things like sheetrock removal, carpet, and insulation disposal are commonplace events. With their general contractor license #13VH06013000, the techs can take the property from cleanup to reconstruction seamlessly and save the homeowner the stress of finding and vetting a local contractor to perform the needed repairs.
SERVPRO of Southwest Morris County at (973) 895-5000 for assistance with flood damage cleanup and restoration to make the water loss in the home, "Like it never even happened."
Click here for more information about Randolph.