Fire Damage Randolph – Secondary Damage
3/10/2020 (Permalink)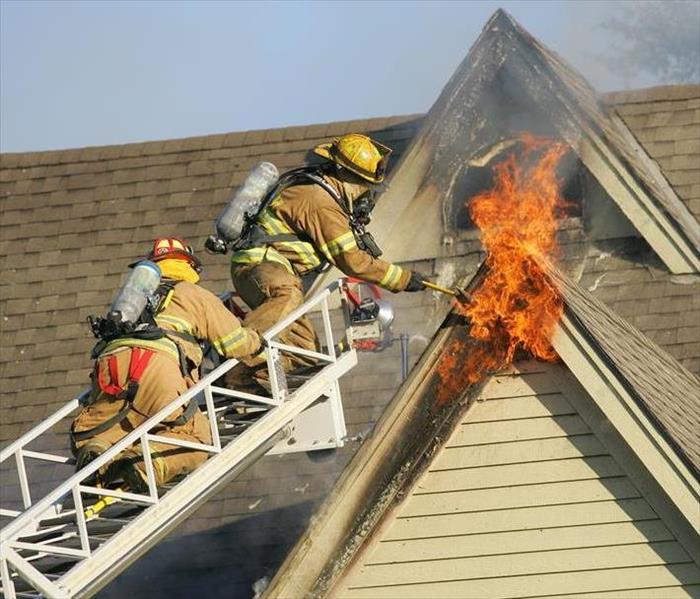 A fire damage in your Randolph home can be devastating, as well as prolonging professional assistance. Call SERVPRO today.
Don't stall when it comes to your Randolph fire damage, there is so much that needs to be done.
Many fires start accidentally from careless smoking, poor disposal of flammable material, and even electrical systems that short circuit. There are a variety of reasons, however often, the damage done by a fire is secondary to the damage caused by the fire department putting the fire out and protecting other buildings nearby.
SERVPRO cleans and repairs homes with fire damage in Randolph and the surrounding area. We have operated in the area for over eighteen years, gaining a wealth of experience in the process. We are available on a 24 hour a day, seven days a week basis. Our fully stocked trucks have everything we need to clean, repair, and reconstruct your home after a fire.
Water and Fire Damage
Once the fire is out, SERVPRO can evaluate the damage caused by the fire as well as the damage caused by the actions of the fire department to put it out. Often, firefighters have to spray water into ceilings, break walls to access hot spots, and ensure that there is no potential for the fire to restart. Ceiling insulation is wet, the drywall is wet, and carpeting must be replaced due to the water and smoke damage.
Electrical systems and plumbing systems may have been damaged by the fire or by the fire department. Although items such as kitchen cupboards may not appear to be damaged, everything must be wiped down and cleaned to remove soot and smoke residue. The cupboards may need to be removed to enable the replacement of the waterlogged drywall behind them.
While the damage may seem overwhelming at first, our SERVPRO team can develop a plan to remove all of the damaged material, save those items that can be recovered and cleaned, and begin the process of restoring your home to its original condition. We also offer full-service build back and reconstruction services, which reduces the total cost of recovery, and shortens project time as well. Our contractor license: General: 13VH06013000 covers all of the professional subcontractors needed to repair your home.
Call SERVPRO of Southwest Morris County at (973) 895-5000 for 24/7 service. We proudly serve Mount Olive, Long Valley, and surrounding areas. We're Faster To Any Size Disaster.
To find out more about Randolph, click here.