Can Homeowners Count on Professional Fire Damage Restoration in Randolph for Cleaning Hardwood Furniture?
8/22/2021 (Permalink)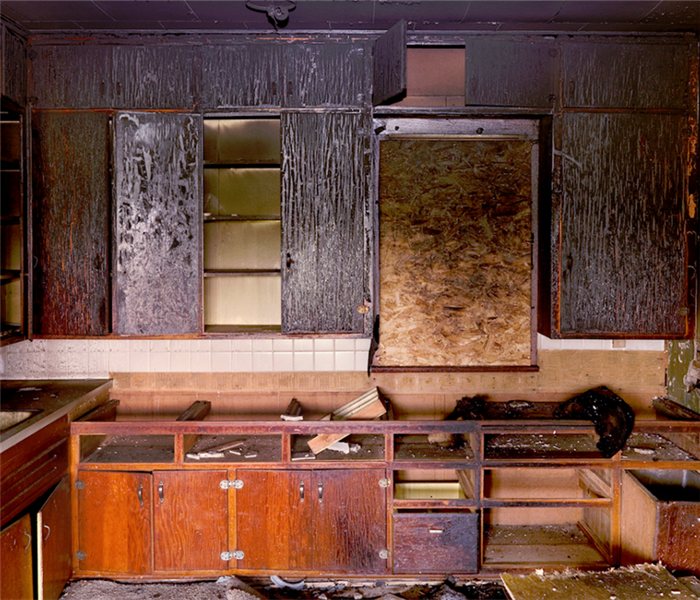 Did fire damage affect your historic home? Team SERVPRO can help with fire damage remediation services. We are standing by 24/7 for your call.
SERVPRO Restorers Work Diligently to Bring Randolph Hardwood Trim and Furnishings Back to Pre-Loss Condition After a Household Fire
Older and historic homes in Randoph suffering fire damage present heartbreaking issues if smoke, soot, charring, and heat affect hardwood fixtures and furnishings. Although certified and trained restorers can clean and deodorize some hardwood fire damage, success depends on the hardwood's finish and the extent of the harm.
How Does the Type of Finish Impact the Chance of Hardwood Restoration in Randolph?
Perhaps the most common hardwood "finish" encountered by SERVPRO technicians is no finish at all. We find unfinished wood in cabinet interiors and drawers and on the underside, backs, and furniture tops. Woodwork is unfinished on the side flat against walls. Unfinished wood is:
Absorbs smoke residues, odors, and moisture
Best suited for dry cleaning methods -- dusting, brushing, dry sponging
Denatured alcohol can work if other efforts cannot
Are Some Types of Fire Damage to Finished Hardwood in Randolph Impossible to Restore?
If the fire damage is extreme, SERVPRO technicians might need to resort to refinishing. We look at the following to decide whether cleaning and restoration can proceed:
Blistering -- if the hardwood was so close to the heat that the fire blistered or scorched the original finish, it might need removal and reapplication.
Staining -- light and ashy soot bushes off. Sticky soot from combusted plastic, rubber, or protein-based soot from a kitchen fire can stain and require refinishing.
What Are Effective Strategies for Fire Damaged Finished Hardwoods in Randolph?
When the soot level is moderate and adhered, a low alkali wet cleaner sprayed and wiped can give good results. Mild oil-based detergents can also work, wiped with the wood grain.
Heavier residues can respond to a semi-refinishing method. Careful application of a slightly abrasive wood cleaning paste removes a thin layer of soot with the assistance of extra-fine steel wool. This method can also solve watermark problems on the finish common after a fire extinguishes with water.
Place your trust in the skilled fire damage restorers of SERVPRO of Southwest Morris County after a residential blaze affects treasured hardwood furniture or woodwork. Call (973) 895-5000 to explore your options.